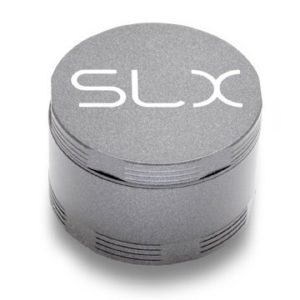 Design -

10/10

Shredding -

9.9/10

Non-stick feature -

9.8/10
Note: This grinder is currently listed as the best grinder money can buy in the best grinders list.
The SLX non-stick grinder (2.0 Version) is a 4 piece, 2.4 inch (62mm) standard size grinder that has quickly become on of my favorite grinders due to its design and functionality. It also has a smaller sibling the SLX pocket size grinder. So if you're looking for a 4 piece grinder that has a functioning non-stick feature, is durable, is 100% FDA certified for food contact and has an awesome design then this might be the grinder you have been looking for.
You will first have to decide on which color you want. There are several options to choose from:

All colors look incredibly well with the Silver, Champagne Gold and Yellow Gold being the more popular.
The SLX 4 Piece Non-Stick grinder promises a lot and delivers in every aspect so let's take a closer look at all the features and go through them one by one.
First and foremost I have to talk about the material and exterior finish. This is a good looking grinder that stands out the SLX logo of the top lid and on the bottom. It's built from long-lasting aerospace-grade aluminum that makes it incredibly light-weight while the interior and exterior has a non-stick ceramic coating that does wonders and works flawlessly. This type of coating is usually found on industrial blades and various cutting tools to reduce friction. The coating is bonded at the molecular level with the aluminum and as mentioned before it's FDA approved for food contact making it non-toxic and also does not burn.
This coating is also what ensures the non-stick feature and it delivers. You can use this grinder for month and never have to clean it. After months of using it you will still enjoy an easy, free flowing motion for grinding and locking/opening of the compartments. The material used along with the coating make this grinder "strong as steel and slick as grease".
Then as you open the top lid you will notice the strong neodymium rare earth magnets that keep this top lid tight shut ensuring no accidental leaks and keep the moisture and scent inside, especially since you can use this grinder as a storage container just as well. Also notice the grips design on the top lid. You can have sweaty hands and still be able to have a tight grip and handle the grinder perfectly.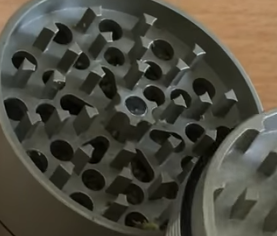 Inside the grinding chamber you will see the 55 razor-sharp teeth (including the teeth from the top lid) that have a unique trapezoid shape. This means that each tooth has 4 sharp cutting edges that produce a consistent, fluffy grind each and every time. Their shape also ensures they won't bend or break.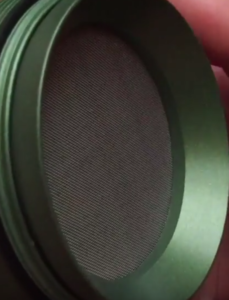 Moving downwards we have the catching compartment which has a totally unique design. What I mean by this is that the 3rd piece of the grinder that has the screen is removable.Unlike other grinders, the 2nd piece connects to the 4th piece thus encapsulating this 3rd piece of the grinder, basically making collection compartment a "lift-out".
SLX 4 Piece Grinder
This has a ton of benefits. You don't lose any more pollen in the sides or edges. After you have grinded your material you simply pull out this part ensuring your pollen isn't upended every time you tip over the catching compartment as with most other grinders. It works amazing as it is very well designed. Also the attached micron screen is of fantastic quality and since this 3rd piece is removable, you can also use this grinder as a container as it can fit around 3g in there.
And the last compartment is the pollen catching compartment which works even better – meaning is catches more kief – due to the non-stick nature of this grinder. A plastic pollen scraper is included but you won't needed as you just have to tip over this piece for all the pollen to fall.
It's important to mention here that under no circumstances should you scrape this grinder with a metal scraper. You will simply not need it. Now I do have to mention that although the non-stick feature works amazingly well, some build up around the lips is possible especially if your herbs are moist (over 12% moisture content) and the guys from SLX do mention that fact. But all you need to do is brush off these build ups with a toothbrush or a soft brush or lightly tap the grinder on a solid surface.
Overall this is a top premium grinder that delivers in every aspect on its promises. SLX fully backs its claim since it also has put its website on the bottom with the "Never Sticks" motto prominently written. I recommend you get this grinder today, you will not regret it.