Are you searching for the best weed grinder for you? We can help you decided on which one is the best one for you as we've tested a number of different premium grinders and will share with you which ones are the best. We have tested each grinder in three main areas: shredding, longevity, cleaning and unique features.
Please note that is a continually updated post of the best grinders as we strive to keep it up to date as new products make their way to the market.
Best overall weed grinders
1.SLX V2.0 non-stick grinder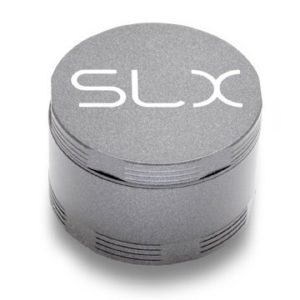 The SLX version 2.0 has quickly become one of my favorite grinders mostly due to its amazing non-stick feature. It's a 2.4 inch (62mm) 4 piece grinder that it also durable and is 100% FDA certified for food contact. It has a non-stick ceramic coating that in bonded to the aluminum at the molecular level and is usually found on industrial blades and other premium cutting tools to reduce friction.
Click here to check best available price for the SLX non-stick grinder
In terms of its design I give it full marks as it simply is the best in this category. Everything from the grips to the threaded compartment design with the removable screen/catching compartment are signs that a lot of thinking, time and passions have been invested into creating the best possible grinder. Due to its design this grinder is also shorter than most other premium 4 piece grinders which means it's also much more portable. The teeth have four sharp cutting edges which produce consistent and fluffy grind time and time again. Since this is a working non-stick grinder it will hardly require any cleaning as both your herbal material and kief will simply fall off.
2.Cali Crusher Homegrown 4 Piece grinder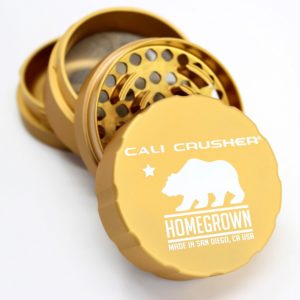 The Cali Crusher Homegrown grinders have to be placed in the top of the best grinders as they come with some unique features and deliver perfect shredding.
Click here for the best price on the Cali Crusher Homegrown 4 piece grinder
The Homegrown series from Cali Crusher comes with a high multitude of colors to choose from. All colors look amazing as the blasted exterior finish is specific to Cali Crusher and has a nice touch and feel to it. Then there are the other premium features of the Homegrown series that really make this grinder unique: the patented radial cut teeth, the replaceable screen, the quarter turn closing mechanism.
This 2.35 inch diameter grinder delivers prefect shredding each and every time thanks to its uniquely shaped teeth, it long lasting and has the closing system that ensures no spillage and no clogging up. I fully recommend this grinder for all your shredding needs.
3.Space Case 4 Piece grinder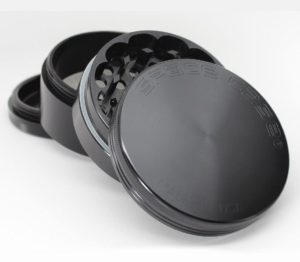 The Space Case brand is a well established brand for grinders and the 4 Piece grinder from the Titanium Series is one of the best and long-lasting grinders. This model was one of the first premium grinders I ever got and after years of use its still sharp and grinds perfectly. This model is the 2.2 inch diameter model which is perfect to grind quite an impressive amount of herbs.
Click here to check the best price for the Space Case Titanium Series 4 Piece Grinder
The exterior finish is very nice to the feel and is scratch resistant. Some of the well know features of this model are the diamond shaped teeth, the high-quality screen and the included scraper. All make it necessary to include a Space Case grinder in any list of the top available grinders.
Best pocket grinder
When it comes to a grinder, portability and discreetness can be an important factor. While the above mentioned grinders do have an element of such features to them, there are the "pocket grinders" which specifically aim towards delivering the best in this section.
1.SLX v2.0 non-stick pocket grinder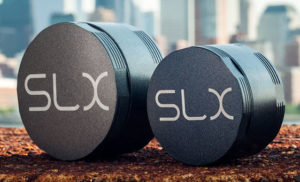 We've already mentioned the regular size SLX v2.0 grinder as being one of the best functional non-stick grinders, and pocket model works just as well delivering the perfect grinding experience in a version that is much smaller, compact and discreet.
Click here to check best available price from the SLX v2.0 pocket size grinder
With a 2 diameter and a shorter height then most pockets size 4 piece grinders, it still is packed with 27 razor sharp teeth which will last a lifetime and will require very little to no cleaning as the weed and kief simply does not stick. As far as pocket grinders go the SLX 2.0 version non-stick grinder is one of the best.
2.Cali Crusher Homegrown 4 Piece Pocket Grinder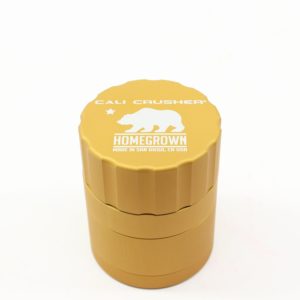 The pocket size version of the Cali Crusher Homegrown 4 Piece grinder works incredibly well.
Click here for the best price on the Cali Crusher Homegrown pocket size grinder
At just 1.85 inches in diameter it's very slim making it a pocket grinder in a very true sense of the word as it fits perfectly in any pocket. It does have a bit more height than the SLX and that's why it's our second best option, but it grinds just as well and on a plus side, with the extra height, you can also use it as a storage compartment if that is something you are looking for.
Best value grinder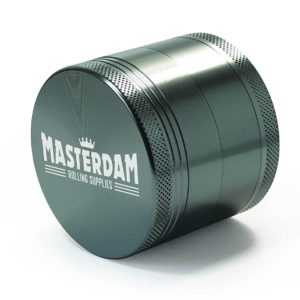 If what you are looking for is a grinder that delivers the most value delivering a lot while coming with a lot of premium features then we got you covered. Here is out top pick for the best grinder at the best price.
It's the Masterdam Shield Series 4 piece grinder.
In many ways I was impressed when I tested out the grinders from Masterdam. They exceeded all my expectations and the best thing is that you can currently get them at an unbeatable price tag.
There are a multitude of colors to choose from, all having the same amazing exterior finish. Then the shredding delivered is top notch thanks to the curved diamond shaped teeth. And one feature I like a lot is the threaded design which ensure no spillage. A scrapper along with a carrying bad are also included.