Manufacturer -

9.9/10

Shedding -

9.9/10

Design -

9.7/10
The Space Case Large 4 Piece Titanium Grinder is the probably the grinder for you if you're looking for a grinder that you can use daily and shred large quantities at once. Space Case is a well known brand that consistently delivers top quality and long lasting products. This particular grinder is no exception to the rule and you can expect a grinder that will last you a lifetime.
We've covered the Space Case 4 Piece Medium Size Grinder which is from the same series and very similar with the only major difference being the size. This large model has a diameter of 3.5 inches (9 cm) and 5.5 inches in height. With that kind of measurements it's the most portable grinder, but as I mentioned before with this model it's all about being able to shred larger quantities all at one and getting the shredding perfect.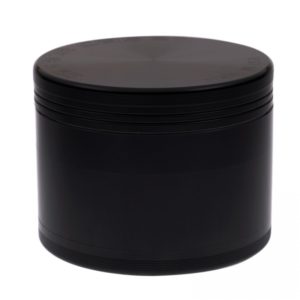 Now let's take a closer look at this grinder and see all it's features and why it's rated high on our list.
First I have to mention the fact that this grinder is manufactured from American milled aircraft grade aluminum which gives is a well built feel. Then the titanium finish is what gives the grinder the amazing feel and touch. Then starting from the top you will see the well known Space Case written logo as well as the "Made in USA" message.
As you open the top part you will notice the powerful neodymium rare earth magnets that ensure the tight and leak-free closure of the top lid. But the features of the shredding compartment is what makes this grinder special.
The bi-directional diamond shapes teeth are as sharp as they come and will dull much slower than other grinders. Then there is the centering wedges on the outer edge that push the shredder material back to the center where the diamond shaped teeth ensure the perfect shredding. It's a system that simply works. And of course there is also the nylon O-ring that only help with delivering a smooth and precise shredding motion.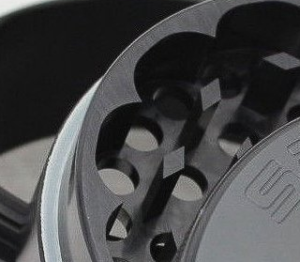 Also worth mentioning here the fact that the titanium finish contributes to less material getting stuck on or in-between the teeth which means this grinder need less cleaning then similar grinder. Very important aspect.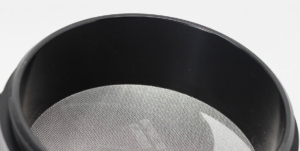 Moving on to the second compartment there are not a lot of things to add here other than the screen which despite the fact that it does not have any support protection – and the screen on similar grinders are know to break – it is a T-316 stainless steel medical grade pollen screen which is known to last a long time. Under normal usage conditions you will not have any problems with this screen and as far as we've tested it it's a screen that does filter out everything except the pollen which is exactly what you want.
And the last compartment is pollen catcher which is rounded around the edges and also includes the well known Space Case pollen scraper and works perfectly with Space Case grinder.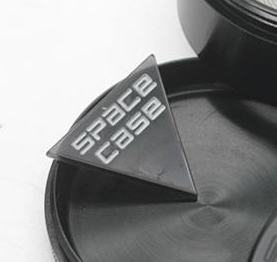 Overall as I've mentioned with previously reviewed Space Case grinders this is a top quality premium grinder that will last you a lifetime. This particular model it also large which means you can grind a lot of material at one with no effort.
A highly recommended grinder from a legendary company made in the USA.
Manufacturer -

9.9/10

Shedding -

9.9/10

Design -

9.7/10