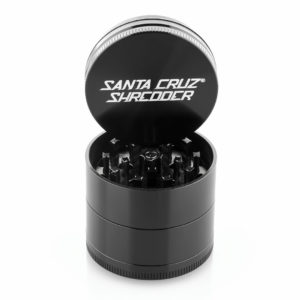 Shredding -

9.9/10

Manufacturer -

9.9/10

Features -

9.7/10
The Santa Cruz Shredder medium size 4 piece grinder is a very highly rated grinder due to some of its unique features. It's a medical grade anonized aluminum grinder made right here in the US in Santa Cruz and now you know where the company gets its name from.
After making the decision to get one of these fantastic grinders, the next decision you will have to make is the color. As we've come accustomed there are plenty to choose from.

All colors look incredibly well with the black and "rasta" options being the more popular.
Let's dive in deeper and go through all the features that this grinder has to offer.
First like with other top premium grinders right from the moment you unbox it you will notice the finer details and the fact that a lot of time and effort has been put towards creating a very functional product. This medium size model is 2 1/8 inch (55mm) in both diameter and height.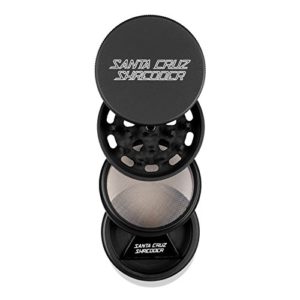 On the top lid you will find the Santa Cruz Shredder engraved logo which looks nice as well the the texture on the outer rim which ensures a great grip. When opening the top lid you will notice the strong rare earth magnet with which this grinder is equipped and that translates into a strong and tightly closed lid that prevents any kind of leakage. You also have the thin poly-o ring that prevents metal on metal touching and helps with a smooth shredding motion.
Then we have the first compartment where the shredding actually takes place. The teeth are extremely sharp and do the job perfectly. You will notice they are quad-shaped which is why you get the perfect shred that is ideal when using a portable vaporizer for example.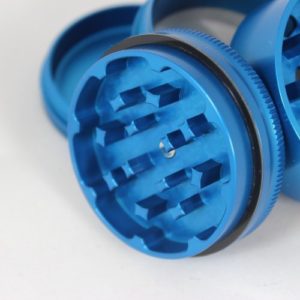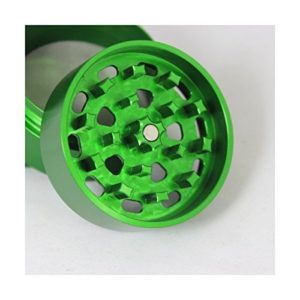 The catching compartment also comes with some great features. First of all it has that threaded design that I like and have been praising a lot at other grinders as well. Such a design prevents cross-threading which can become a real pain over time. But not problems here. The only thing I would improve on it maybe the locking system to something similar to what Cali Crusher has, but it's definitely nothing to complain about as it works fine (at least for the time that I have been testing it which is about one month).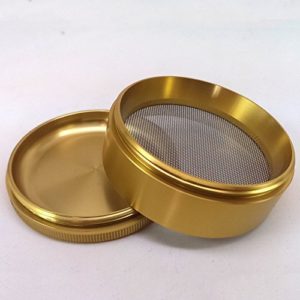 Another important part of every 4 piece grinder is the screen and the kief catching compartment. The screen is non-removable but that's the case with most other grinders and it looks solid to last a long time. As for the last catching compartment it's nice to see the concave bottom which makes is easier to collect the kief and the included scraper is a well welcomed bonus.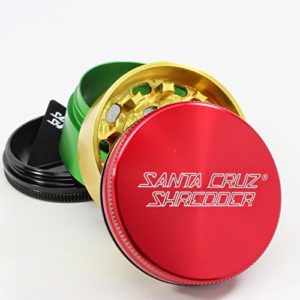 Overall in many ways this is a top premium grinder designed to last a long time and produce the perfect shredding experience time after time with minimal cleaning. If you choose this grinder as one for daily use you will not be disappointed, it delivers in every way.