Value -

9.8/10

Shredding -

9.8/10

Design -

9.6/10
The Golden Gate 4 Piece Grinder from Golden Gate Grinders is a best seller anodized aluminum grinder. A 4 piece grinder that is build to last, with good sharp teeth and a premium design.
In more ways than one this grinder surprised me. It has a lot of features I was not expecting and and all that at an unbeatable price tag. Let's examine this 2.5 inch Golden Gate grinder from top to bottom and share with you my experience and what I liked about it so much.
First thing you will notice will be the very nice matte finish as well as the nice feel to it which is also due to the material from which it's built. Maximum strength aircraft grade aluminum is the material user, similar to what you would get with other premium grinders. Then on top you will see the Golden Gate Grinders logo written on a nicely brushed finish. Now let's take a look at each compartment.
First of we have the shredding compartment which was the first place I noticed some of the features that make this grinder a best seller.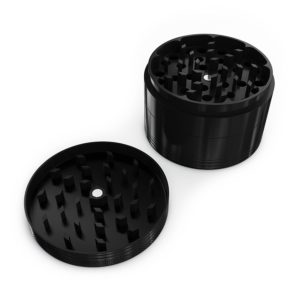 As you open the top compartment there are the powerful neodymium magnets that deliver perfect closure, the extra sharp curved diamond shaped teeth with the centering wedges on the outer edge and the anodized finish that prevents material sticking to the teeth. And these are just to mention a few of the features you would normally get on higher priced grinders.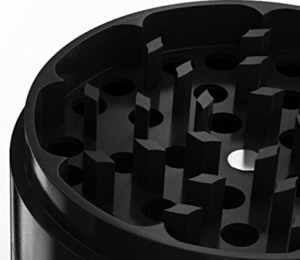 After the herbs have been shredded properly in all goes through the holes into the catching compartment where again I was surprised some premium features that were implemented spot-on.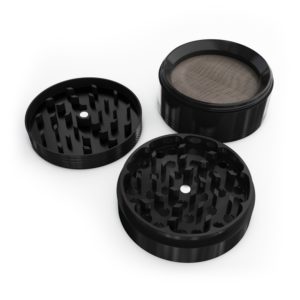 In the image above we have both the shredding and the catching compartment. Notice the threaded design for the catching compartment. I believe all grinders should have such a design as it prevents spillage and also ensures the locking system does not get clogged up. So yet another premium feature to take note of here. And we also have the micron screen which works perfectly.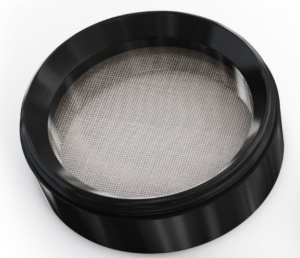 And last but not least we have the last compartment most often is referred to as the pollen collection chamber. This chamber does not have the best design possible but it does have slight rounded corners and along with the included scraper you can easily collect and scrape all the accumulate pollen.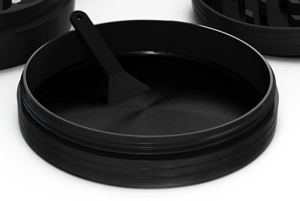 Overall given the features and the price tag of the Golden Gate 4 Piece Grinder, this is definitely a grinder you can and should consider purchasing it you're looking for a nice matte finish grinder packed with premium features.
Value -

9.8/10

Shredding -

9.8/10

Design -

9.6/10