Click here for best available price
Design -

9.9/10

Functionality -

9.9/10

Value -

9.8/10
The Firefly 2 Vaporizer is probably the vaporizer you have been looking for until now. The Firefly 1 was a good product in itself but there were things to improve on and this second edition of the Firefly was managed to overcome the weaker points of the first edition which is nice to see. The Firefly 2 supports both herbal and concentrates and has a magnesium alloy construction and a 5 sec heat up time and that's just to mentioned just a couple of the features. This is truly a premium portable vaporizer for those who want a top product. Business Week even refers to it as the iPhone of vaporizers.
There are several colors to choose from but it's good to know that the top lid is replaceable so you can get any color you like after the initial purchase by getting a replaceable top lid in the color of your choosing. Or you can get several top lids right from the start and mix them up. Besides the top lid there are also other accessories for this neat little vaporizer like carrying cases.
I really like what this vaporizer can do so let's see what's included in the package and then go over all the features. As you can see in the image below the Firefly 2 package contains the actual vaporizer, 3 concentrate pads (liquid pads), the cleaning kit, and extra battery, the charging dock and the USB cable.
Now the fact that an extra battery is included is something unique among the premium portable vaporizers which is definitely a plus. What is a small downside however is that you cannot charge the extra battery unless you place it in the vaporizer. But that's a very minor downside. And that's because this vaporizer is not only fast-charging taking around 45 minutes for a full change, but also the battery is long lasting. And it lasts much longer than the previous model just because of how much more efficient this second model is. As far as battery goes the Firefly 2 is a major improvement over the first generation model.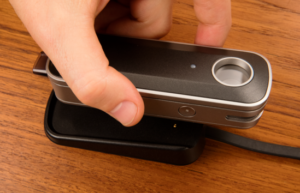 Worth noting here that a wall adapter is not included but you don't really need one as you can charge it by plugging the USB into your laptop or you can simply use your smartphone wall adapter. You just connect the USB to the charging dock and place the vaporizer on it. As it starts to charge the front LED light will light blue and start to pulsate and when it's done it will be a solid to color with no pulsating. If you want to check the battery level you can either use the Firefly app (we will be talking about that a bit later) or you can tap the right touch sensor three time quickly and then watch the LED indicator. If it blinks red then it's time to charge it, one blue blink means 25% charged, two blue blinks 50% charged, three blue blinks 75% charged while four blue blinks means it's fully charged.
This has to be one of the best looking vaporizers I've come across. You can tell that a lot of time and effort has been put in designing and manufacturing this product. I really enjoyed seeing that.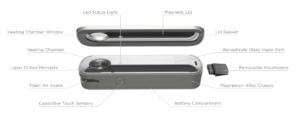 The top lid is magnetic which makes is super easy to open and close. On each side of the magnesium alloy chassis are the capacitive touch sensors which only react to skin and pressure which prevents accidental turn-on is your pocket or backpack. Also worth noting here that the magnesium alloy construction is what makes this model so much lighter than the previous one. And then we also have the mouth piece that has a built in microfilter.
And then we have the interior where the heating chamber also has the laser drilled microjets which ensure an even heating. Also notice the fresh air intakes which are very well designed. I believe these two things along with the borosilicate glass vapor path contribute the most to the quality of smoke I will be discussing a bit further.
Now if you have the unit charged and want to take your first hits it's time to load it up. Since this is both a loose leaf and concentrate vaporizer I want to say a few things about packing the heating chamber. Firstly when you pack the chamber with loose leaf I really recommend you do not fine grind your material. I'm talking about avoiding that type of grinding where you have your herb almost in a powder state. This can lead to the clogging up of the filter found at the mouthpiece. I can be cleaned so it's not a problem but it's recommended you avoid such fine grinding with this vaporizer as it will also mess up the smoke quality. A grinder like the Space Case or the Cali Crusher Homegrown will deliver the shredding you would want for this vaporizer. And when you do pack it with loose leaf make sure you clean up the excess leaf that's not inside the chamber before closing the lid. Also make sure you don't over pack the chamber as air needs to go through. A packed bowl will produce about 10 hits and it is recommended that you stir the contents after a few draws. But unlike other vaporizers I have noticed that with the Firefly this can easily be done with a few relatively gentle taps.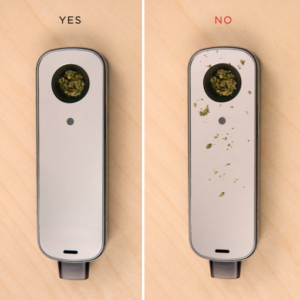 As for the concentrates you have the 3 pads available that come in the box. The way you use them is by placing them in the heating chamber after which you place your concentrate on them then heat up the vaporizer and take a few cigarette like puffs in order for the concentrate to go into the "liquid" pads after which you can start taking regular hits.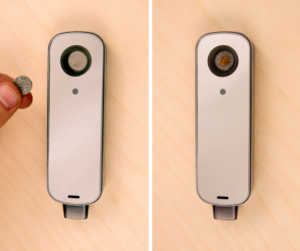 We have  gone over the loading process of the heating chamber so let's see how this vaporizer actually works.
There is just one more thing I recommend you do before taking a hit and that is to download the Firefly app. You can find it in the AppStore and once you have downloaded it you need to follow a simple connect process via bluetooth. Your Firefly need to be fully charged before paring the device. In order to pair it all you need to do is place your fingers on the touch sensors and release after the LED blinks green. Then you will see the pairing screen in the app and you will be able to select the device give it a name and you're done.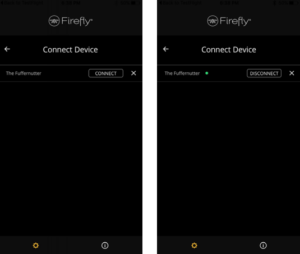 After the pairing is done you can control almost everything about the Firefly 2 vaporizer. You can set the heating profile, customize the touch sensor activation, check battery level or contact customer service.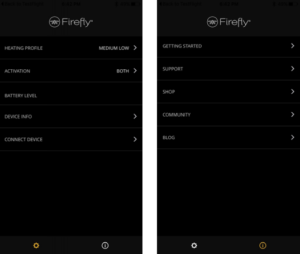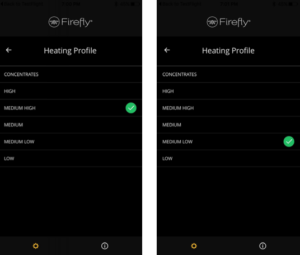 As you can see in the image above there are 6 pre-set temperature levels: Low for 340 F, Medium Low for 360 F, Medium for 380 F, Medium High for 400 F , High for 420 F and the Concentrates setting which is 500 F. The default setting is Medium High 400 F but once the heating profile is set by you in the app it will remain at that level until you change it.
Now vaporizing loose leaf and concentrates is about the same but there are a few differences. I will start with loose leaf where you need to do to activate the vaporizing process is place your fingers on both touch sensors. Take note of the fact that you don't need to press hard just a light tapping as on your smartphone will do. The LED will blink green for three second and then turn solid green when it's ready.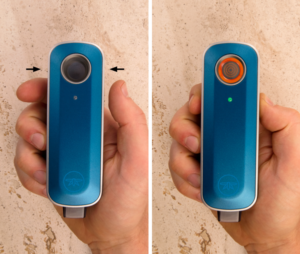 On subsequent touches the LED will turn solid green immediately. When you continue to take hits you should hold the touch sensors while you inhale. The absolute best results are with 10 seconds long, deep draws. It's the way Firefly recommends.
The almost exact same process goes for the concentrates. You have your concentrate in the heating chamber and set the heating setting to "Concentrate Level" via the Firefly app and then press the buttons. But unlike for loose leaf it is recommended by Firefly that you preheat the concentrate which is done by pressing the sensors while taking five to ten cigar like mouth puffs after which you can return to normal inhalations. And when I say normal inhalations I am referring to the 10 sec long draws that deliver the best results and the best vapor.
Cleaning this vaporizer is also very easy and not only is it easy you don't have to do it as often as with other premium portable vaporizers. You have all the cleaning tool you need included. The only thing I would add is make sure you properly dry out the vaporizer before using it after a cleaning round as you will probably use isopropyl alcohol wipes and it can catch fire.
So overall having tried both loose leaf and concentrates with this vaporizer I have to say that this vaporizer delivers some of the best smoke and taste. I was very impressed with this vaporizer and I believe you will be too. It looks very good and delivers excellent results. I can't recommend this vaporizer enough. It's clearly built with quality in mind by people who smoke as well and wanted a top product for themselves (which incidentally happens to be the case). I wholeheartedly recommend the Firefly 2 vaporizers.
Design -

9.9/10

Functionality -

9.9/10

Value -

9.8/10